He'd been a different man with Charlotte, a softer man, a man who might have had a future.


If there was one thing she'd learned in her lifetime, it was that the world was a game. She would win or she would die.



When I read the first book in the Masters and Mercenaries book, I knew, I just knew that I had to, I needed, I had to have Ian's book.


I'm pretty sure I got to a point where all I had to do was think of Ian's name and my mind was all


So needless to say, my anticipation and my hopes have gotten quite high in 5 books' span. I don't remember the last time I pre-ordered a book and then spent hours staring at my Kindle willing it to come in. Did this book meet my expectations?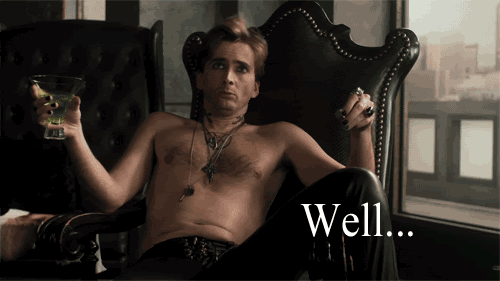 Not quite...



IAN


The bigger they are, the bigger they fall. That's kind of the idea I had built up in my mind for Ian. He was always so cynical with love with all his friends. I was waiting for a woman to come in to knock him on his ass. So when 5 years later his dead wife shows up at his office, he gets thrown for a bit of a loop.

Charlie


I absolutely loved Charlie's personality from the last book. She was spunky, tough, and kick-ass. I just knew that she was going to be even better in her own book. She had been through so much in her life and at the hands of her father. And when she was forced to betray Ian five years ago in order to save herself and her sister, she has spent those years apart trying to atone for her actions.
A girl had to have a hobby. Hers just happened to be causing chaos for some of the world's worst terrorists and criminals. It was fun.

She made plenty of sacrifices, and even stood in front of a bullet for a member of Ian's team in the previous book. All in hopes for earning the right to be back in his life.



When Ian is force to work with Charlotte since she holds the key information he needs in order to finally get to the rogue agent responsible so much of his past turmoil, he finds it hard to fight his attraction to her. Even though he should hate her for what she did to him, he can't help but still feel the pull between them.
He was going to kill her. He was going to wrap his hands around her pretty throat and squeeze. Except the minute he had the vision of killing his back-from-the-dead wife, she was suddenly naked and he wasn't thinking about throttling her anymore. Maybe he could fuck her to death. That would be a better way to go.


The one thing that I have loved in Lexi Blake's books in the past was the super steamy love scenes. You could just feel the burning passion between the couples when you read it. I couldn't seem to get the same thing here. The sex scenes between Ian and Charlie read almost mechanical to me at times. Like insert slot B into slot A, moan, breath, *insert dirty words here*, rinse and repeat. It took Ian pretty much the entire book to finally open up some. So maybe that was what was missing for me? I'm not even sure. Then again, this also might have been the case of my high expectations just being too high? Who knows. What I do know that is that in all the build up to Ian's book, it didn't quite meet my expectations in that.

I really liked Charlie. The way that she fought for her sister, and then fought her way back to Ian melted my heart. She took on so much abuse, and she took it all from Ian too, in order to make up for her mistakes. She was understanding, and sweet, yet at the same time maintained a lot of her strength.

The other thing that I found lacking was the romance. At times I found that the romance took a backseat to the suspense. Don't get me wrong, the story was action packed and entertaining. I guess I just wanted something...more. I was even able to look past a few details that irked the Russian in me. A few stereo types here and there, and the name Dusan Denisovitch. (Dusan? Not a Russian name. At least none I've ever heard.) But I suppose that's just me being picky.

There is a HEA at the end, but a hell of a cliffhanger introduction into the next book. I was really hoping to get Simon's book next, but looks like we will be getting a different sexy Brit, Damon Knight.

For more reviews visit: Dirty Girl Romance Book Blog