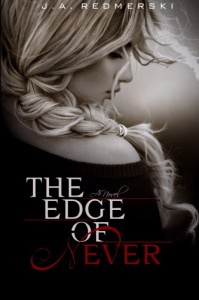 I have been on a recent binge of NA romances. It was another cheap Kindle purchase, and the cover looked good, and the blurb sounded promising, so I bought it.
After devouring the entire novel in a day and staying up until I finished it....WOW...simply WOW!
20 year old Camryn Bennett had a heartbreaking year. She is looking to turn over a new leaf and make the best of it, a new job and moving in with her best friend being just 2 of them. However, after and incident at a nightclub, all that takes a turn for the worst.
Determined to leave it all behind she takes her purse a cell and small bag with a few necessities, she jops on a Greyhound bus alone with absolutely no plan as to where she's going or what she's going to do when she gets there.
Her life get another change when during her trip she meets 25 year old Andrew Parrish. Through a series of events and circumstances they form a bond, that forms into a friendship, that eventually forms into love.
Unfortunately, while Camryn shares her deep and dark secrets and memories with Andrew, Andrew is holding back something heartbreaking and life changing from Camryn.
Where do I even start? This book was amazing. Andrew and Camryn's road to love was incredible to read. The sexual chemistry and tension between them absolutely jumps off the pages. And can I just say...their first sexual encounter....PHEW!!! i needed a cold shower and a cigarette after reading it. Their story was so incredibly written, that it read like a movie for me. I pictured it all in my head. Unlike many authors that tell through their writing, Ms. Redmerski SHOWS you. What a ride!
And when you finally find out what Andrew is hiding, it absolutely makes you want to scream and tear your hair out and cross your fingers for their HEA.
This author has now gone on to my auto-buy list.
With a purse, a cell phone and a small bag with a few necessities, Camryn, with absolutely no direction or purpose boards a Greyhound bus alone and sets out to find herself. What she finds is a guy named Andrew Parrish, someone not so very different from her and who harbors his own dark secrets. But Camryn swore never to let down her walls again. And she vowed never to fall in love.
But with Andrew, Camryn finds herself doing a lot of things she never thought she'd do. He shows her what it's really like to live out-of-the-box and to give in to her deepest, darkest desires. On their sporadic road-trip he becomes the center of her exciting and daring new life, pulling love and lust and emotion out of her in ways she never imagined possible. But will Andrew's dark secret push them inseparably together, or tear them completely apart?