"Don't be afraid of me." Bending his head, he spoke with his lips against hers, the contact igniting a thousand tiny lightning strikes in her blood. "I'd line the streets with bodies before I'd ever hurt you."
11 books!
11 absolutely amazing, un-put-downable books. All leading up to book 12 that will absolutely, positively, blow.your.mind!
First, it's rare that you'll find a series that gets better with each new book. I read a lot of PNR, and I can count the authors that have been able to do that on one hand. Nalini Singh is one of those authors.
I have had my suspicions about this book, some have been true, some I was completely off on. What I do know, is that this book was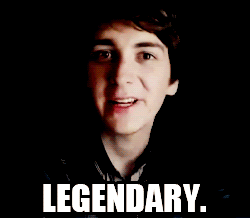 I will not leave a full review, as I don't think I'll be able to do so without giving something away about HIM.
I will say this:
The writing:
The love story:
"Why are you holding me?"
"Because you belong to me."
Beautiful, heart-breaking, emotional, AMAZING!
The plot:
And Nalini Singh