"I'm a bad man, Maggie."
The heart is sometimes the last to speak the truth
I'll be honest, when I read 'ex-Navy SEAL' and 'dirty boy' in the book's description, I knew I'd be all over this. What? Shallow?! I think not!
Right...moving on then.
This was my first book by Lisa Eygene, and after finishing this, I can say it won't be my last.
Maggie was endearingly quirky. She's a nurse and a germaphobe of obsessive proportions. I was afraid at first that this would irritate me, but she came off as cute and her germaphobia was hilarious. Her internal monologue had me giggling through the entire book.
"Listen, why don't you just leave? I promise I won't call the police. I don't even know your name."
"Gabe."
She blinked. 'Gabe' didn't suite him. Maybe Atilla or Calingula.
Recalling when her gay best friend, Dave, dragged her to an adult toy store after her recent break-up.
She still blushed at the memory. David called the shop his 'grocery store of genital goodies. And she'd been surprised that it was much like a grocery store, with seemingly ordinary people pushing shopping carts filled with its and other curious items up and down isles. He'd teased her mercilessly because of the wig and dark glasses she'd insisted on wearing, and repeatedly assured her that she looked like the only weirdo pervert in the store, especially after she'd spent a great deal of time questioning the manager about the most efficacious ways of cleaning and sterilizing the device she'd reluctantly purchased. After being referred to the manufacturer, she'd finally gotten some answers, and had even made suggestions that he assured her would be added as an insert with the product. She'd been thrilled to offer her expertise on infection control.

The woman was straight crazy at times, but I still found myself laughing at her antics.
"Ahh… what are you doing?" Gabe walked over and stood next to her.
"I'm blow drying the sheets," she stated simply. He gave a slight head shake as he regarded her.
"Why?" he asked slowly.
"I've inspected the sheets for bedbugs. Doesn't appear to be any, but this is just a precaution. High heat should kill any microscopic eggs."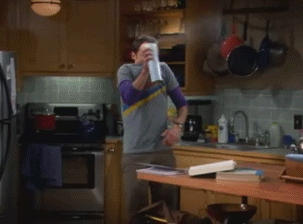 Gabe....*dreamy sigh*. He was a dirty boy indeed. He was sexy, demanding, possessive, and a dirty talker (be still my heart, I just love those dirty talkers.)
The sexual chemistry between these two characters was super hot, and when they finally got down to business...sweet mother!
"Is it good, Maggie?" he hissed, his hips snapping rapidly.
"Yes!"
"Tell me, honey."
"Oh God, Gabe!"
"Tell me. I need to hear it!" he demanded roughly, his voice a cry of anguish. Her blue eyes snapped open and locked with his.
"Yes, Gabe! Yes! It's unbelievable! You're unbelievable!" she gasped as she spasmed on the hard granite.
(and mama like!)
I don't want to reveal too much of the plot, since it would give away spoilers.
But I will say that it was sexy, fast paced, action-filled, and a page turner till the end.
Now I do have some minor quibbles. I have this pet peeve when author's use various terminology for the...uhem....nether regions. It's like they get too creative at times, just call it what it is. I may have developed a slight allergy to the term 'rod' or 'member'. Dunno, just doesn't conjure sexy thoughts for me. *shrugs*
...he let her thighs fall to the side, then rolled his sweats further down his hips and gripped the wide root of his member.

********************
His rod soon became stiff and hot and pushed eagerly into her palm.
I think my biggest quibble is with the ending. I loved the action in this book. It was fast paced and filled with twists that I never saw coming. The big twist at the end...wowsa!
But...I felt like the ending came and then we had a very sweet epilogue, but it never really explained some things that I felt would have been important to the story.
There was a major shooting, with 2 people killed, yet there was no mention as to what happened with the investigation or any repercussions from it. Gabe is being hunted by authorities throughout the whole book. There was also a story that was released where he was falsely accused of killing a nurse and a cop...but we never really got any explanation with that.
I think that if we got at least a few paragraphs tying that all up, it would have helped the ending immensely. It just doesn't make sense that both Gabe and Maggie simply walk away from something like that.
Aside from the 2 minor complaints, I thought the book was fantastic.
I have definitely found me a new author to watch out for, and I will gladly read any future books she releases.
4 Sexy and suspense filled stars
*Book kindly provided by author in exchange for an honest review*
For more reviews visit:
Dirty Girl Romance Book Blog