3.5 stars for the first novella
4 stars for the second one
If you have never read a book by Anne Calhoun, you are seriously missing out. The woman has this amazing ability to weave a story together so seamlessly that not a detail goes unnoticed. I absolutely adore her writing style. She's able to get every nuance, every little detail, sound, feeling, emotion into her books that make the story truly beautiful to read. She has been on my auto-buy list ever since [b:Liberating Lacey|6439475|Liberating Lacey|Anne Calhoun|http://d202m5krfqbpi5.cloudfront.net/books/1241278141s/6439475.jpg|6629380].
This book is 2 novellas,
Over the Edge
and
All on the Line
. The writing is nothing less that what you might expect from Anne Calhoun, but sadly I didn't
love
these 2 stories as much as her other work.
The book can easily be read as a stand-alone. I have not yet read [b:On the Edge|8031666|On the Edge|Raine Latimer|http://d202m5krfqbpi5.cloudfront.net/books/1301847023s/8031666.jpg|12637333] where Ty was first introduced (though I do plan to do it now) and I was able to follow the story line with no problems
Over the Edge
Ty Hendricks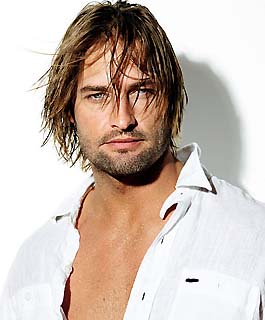 Ty Hendricks is not the man he used to be. After a mission in Afganistan goes completely FUBAR, Ty is completely broke, haunted with the dark memories, nightmares and guilt, he has trouble with any form of relationships, friend or last of all romantic.
While working on an oil platform, he meets Lauren Kincaid. I really liked Lauren's character. She was very down to earth, no-drama, no self-esteem issues woman. I enjoyed the fact that she was the one to pursue Ty first and make her interest in him clear. Lauren is interested in Ty, but Ty feels like he is too broken for any relationship other than sexual. They have a one-night stand which turns into more frequent sexual encounters.
The sex scenes are steamy as hell, the way only Miss Calhoun knows how to wright them. Seriously hot, but erotically beautiful (if that even makes sense).
Where this story went a little wrong for me was with Ty. I could not connect to his character. After we learn what happened on his mission, I could more or less understand why he is the way he is, but I just kept waiting for something more from him. He was a complete a-hole for almost the entirety of the story. He was closed off emotionally and at times extremely rude. Lauren was very understanding, without being a pushover, of his situation. I supposed I just hoped to get a little more from Ty at the end. We do get a HEA, but for me it just felt slightly rushed and glossed over. I think that perhaps a quick epilogue or maybe an additional chapter of the couple wouldn't have been amiss. I'll go with 3.5 stars for this story.
Sean Winthrop
In "All on the Line," we meet Sean Winthrop. He had a budding relationship with Abby Simmons last time he was on leave from the Marines, and Abby fell for him hard and fast. However, fearing that their relationship will not survive his deployment, Sean breaks up with her in an unemotional email. Abby is broken hearted, but moves on. Sean after coming back from Afghanistan is full of regrets, wants Abby Back. But Abby is no longer the woman that Sean left behind. She is only interested in sex, so Sean sets up a plan to get back into her heart.
I loved Sean in this story. He was not the typical man-whoring asshole, and he wasn't an a-hole like Ty. I suppose where this one went wrong for me was with Abby. While I did like her as a heroine, there were times and situations where she drove me a little crazy. Even though her whole thing was about being more "mature" and different, her actions at times were very immature.
The common theme these two novellas have is the use of a menage in order to bring the main couple together. In Over the Edge, Ty uses a menage in order to push Lauren away, but it only makes him realize his feelings for her. In All On The Line, Abby suggests a menage to Sean in order to show that he does not affect her, though again it has the opposite effect.
I have to say that I enjoyed All On The Line more out of the two stories simply because I loved Sean. Also in addition to a HEA, it had a very beautiful epilogue which was very satisfying. So I will go with 4 stars.